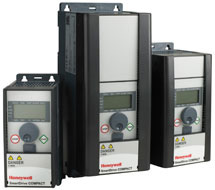 HVFDCD1B0030F01 | Honeywell | Motor Controls
VFD CMPCT 3.0HP 11.0A 208V 1P IN/3P OUT MI3 EMC
Manufacturer:
Honeywell
MPN:
HVFDCD1B0030F01
SKU:
HVFDCD1B0030F01
availability:Usually Ships in Less Than 7 Business Days
add to cart

product family specifications
1 phase input - 3 phase output
Programmable 0.1- 3000 seconds
Programmable 0.1 - 3000 seconds
Six; 0 - 30 VDC programmable
(1) 0-20 mA or 4-20 mA @ 200Ω
One Open Collector, 48V @ 50mA max.
One, 0-20 mA or 4-20 mA, RL=500Ω
Two Relay outputs; (1) SPST N.O. (1) SPDT 250 VAC/2A, 250 VDC/0.4A
Radio Frequency Interferance (RFI)
14° to 122℉ (-10° to 50℃)
0 to 90% RH (non-condensing)
6.2H x 2.6″W x 3.9″D (15.8 x 6.6 x 9.9 cm)
7.7″H x 3.5″W x 4.0″D (19.6 x 8.9 x 10.2 cm)
10.3″D x3.9″W x 4.3″D (26.2 x 9.9 x 10.9 cm)
4″ above and 2″ below required
CE, UL, cUL FILE #E190898
product family features
Ideal for low and medium hp pumps and fans
Small, compact micro drive design
Integrated PI controller built-in with analog inputs
No main power supply required for programming
Intuitive user interface with LCD display
DIN rail or screw mounting
Flexible options include inputs, outputs, field bus, and RFI filtering
Application interface "touch wheel" makes programming easy
more information & related documents
The SmartDrive Compact VFD is a true micro drive, which saves space in the equipment cabinet and makes installation easy. The SmartDrive architecture allows for ease and speed in drive configuration. The intuitive user interface makes commissioning a breeze. The SmartDrive Compact VFD provides a standard PI Controller. Choose options to fit any application. Interface type, filter, enclosure, inputs, and outputs are available in a wide array of combinations. For wall mounting, a frame kit is recommended. Frame kits are not necessary for installation inside a panel.
VFD CMPCT 3.0HP 11.0A 208V 1P IN/3P OUT MI3 EMC