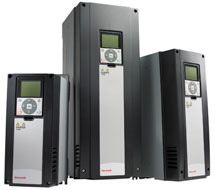 HVFD2D3B0015 | Honeywell | Motor Controls
SMARTVFD2 1.5 HP 208-240V 3PH IN 3PH OUT
Manufacturer:
Honeywell
MPN:
HVFD2D3B0015
SKU:
HVFD2D3B0015
availability:Usually Ships in Less Than 15 Business Days
add to cart

product family specifications
Model specific, 3 phase, 47 to 66 Hz, 380-480 VAC or 200-240 VAC, ±10%
Adjustable 0.1 - 3000 seconds
Adjustable 0.1 - 3000 seconds
6 configurable D.I., 24 VDC= on, 0 VDC= off
Two; 0-010v or 4-20 mA voltage
Open collector, 48V/ 50 mA
One programmable output; 0-10 VDC or 4-20 mA @ 500Ω max.
8A at 24 VDC or 250 VAC, 0.4A at 125 VDC
5% DC choke, Class 2 GMC/ RFI
EN50082 (-1, -2), EN61800-3
JCI N2, MODBUS, BACnet MS/TP
LonWorks with optional board
14° to 104℉ (-10° to 40℃)
0 to 95% RH (non-condensing)
UL Listed File E190898, CE, RoHS
product family features
Ideal for low to high hp pumps and fans
High resolution graphic interface
User manual included in firmware
Simple start-up wizard - pump or fan
more information & related documents
SmartVFD HVAC drives are all-purpose, and can handle both constant-torque and variable-torque loads. The firmware includes special features that make start-up and commissioning of HVAC applications especially easy. Application-specific start-up wizards for pumps and fans, combined with the simple and intuitive user interface, make the SmartVFD a pleasure rather than a chore. Integration is a snap with the SmartVFD. It includes both Ethernet and RS485 connections, and will talk BACnet, Modbus, and JCI N2. Take the complexity out of drive selection, installation, and startup - choose SmartVFD for your HVAC projects and start saving time, money, and manpower as well as energy.
SMARTVFD2 1.5 HP 208-240V 3PH IN 3PH OUT