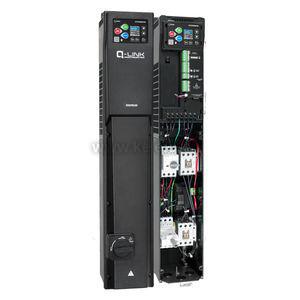 QLNK1-BYP003-DV-2.5 | Franklin Control Systems | Motor Controls
Variable Frequency Drive, 208VAC, 230VAC, 480VAC, 0.5HP, 0.5HP, 1HP, 3-Phase, By-Pass-3 Contactor, NEMA 1
Manufacturer:
Franklin Control Systems
MPN:
QLNK1-BYP003-DV-2.5
SKU:
QLNK1-BYP003-DV-2.5
availability:Usually Ships in Less Than 10 Business Days
add to cart

product specifications
Variable Frequency Drive, 208VAC, 230VAC, 480VAC, 0.5HP, 0.5HP, 1HP, 3-Phase, By-Pass-3 Contactor, NEMA 1
VARIABLE FREQUENCY DRIVE/208VAC/230VAC/480VAC/0.5HP/0.5HP/1HP/3-PHASE/BY-PASS-3 CONTACTOR/NEMA 1
product family features
Smartstart® protection features

Single user interface

Pass-through I/O

Industry leading compact design

Finger-safe power terminals

Native BACnet/Modbus in bypass mode
more information & related documents
The Franklin Q-Link variable frequency drives with bypass are designed for HVAC motor control applications. The Q-Link bypass drives are offered in a horsepower range from 1/2hp to 40hp. These drives are equipped to work for 208VAC through 480VAC. The full max rated amperage horsepower capacity will vary depending on the voltage used. The bypass VFDs come with an SPST 3 pole contactor (up to 20HP), an SPST 4 pole contactor (25-40HP), and a disconnect. The disconnects rated amperages range from 1.6 to 63 depending on model and horsepower desired. All Q-Link VFDs come with BACnet and Modbus communication capability along with a user-friendly Bluetooth phone app for set up and maintenance, IOS or Android compatible. All Q-Link drives come with a cooling fan, real-time clock, internal fuse protection, and digital, analog, and relay inputs as well as outputs. The Q-Link drive is also available in NEMA 12 or NEMA 4X. (Factory configured upon request-not standard. Call Kele for more information.
VARIABLE FREQUENCY DRIVE/208VAC/230VAC/480VAC/0.5H
Q-Link Bypass Cutsheet V3