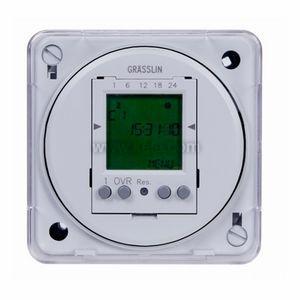 FM1D50E-24 | Intermatic | Lighting Controls
Time Clock 24H/7-Day, Flush, 1 Ch, 120 Vac
Manufacturer:
Intermatic
MPN:
FM1D50E-24
SKU:
FM1D50E-24
availability:Usually Ships in Less Than 5 Business Days
add to cart

product specifications
Time Clock 24H/7-Day, Flush, 1 Ch, 120 Vac
TIME CLOCK 24H/7-DAY, FLUSH, 1 CH, 24 VAC
product family features
24-hour or 7-day programming
50 programs and 20 program models
Automatic daylight savings time (DST) changeover
Large LCD display of day, time, and load status
Manual override of each circuit
Eighth-day holiday programming
more information & related documents
The FM1D50 Series Electronic Time Clocks are compact time controls providing 24-hour or 7-day time-based switching of HVAC control circuits, lighting or machinery. The time controllers are ideal for building automation systems, BAS, and HVAC applications. The FM1D50 is a single-circuit time controller. The FM2D50 provides two-circuit time control. They utilize heavy-duty, 16A, SPDT relay contacts suitable for low voltage loads or line voltage loads.
TIME CLOCK 24H/7-DAY, FLUSH, 1 CH, 24 VAC