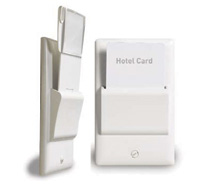 HS-100-G | Watt Stopper, Legrand | Lighting Controls
CARD KEY SWITCH, LOW VOLTAGE, GRAY
Manufacturer:
Watt Stopper, Legrand
MPN:
HS-100-G
SKU:
HS-100-G
availability:Usually Ships in Less Than 6 Business Days
add to cart

product family specifications
HS-100 24 V (AC/DC) to energize relay (usually from BZ-50)
HS-150 120/277 VAC, 50/60 Hz
HS-100 SPDT dry contact, 30 VDC @1A max
HS-150 120/277 VAC, 50/60 Hz Zero cross output
Ballast 120 VAC @ 600 W, 277 VAC @ 1200 W
Momentary μ-switch during card insertion
20% to 95% non-condensing
Push-in wire clips, 14 AWG to 12 AWG wire
Typical vertical switch box, w/separately ordered cover plate
White, ivory, almond, black, gray
-WPL,WPR 0.12 lb ( 0.05 Kg)
product family features
HS-100 low voltage for BAS & lighting panels
HS-150 high voltage for direct lighting control
Attractive, low-profile styling
Choice of five decorator colors
Backlit card key slot provides visibility 30-second egress time delay
Zero high voltage crossing for product longevity (HS-150)
Uses the same card key that unlocks the door
Compliant with IECC and ASHRAE/IESNA Standard 90.1
more information & related documents
The Wattstopper HS Series Card Key Switch turns electrical circuits on or off when a card key or HS-FOB Key Fob is inserted or removed from its slot. The HS-100 is a low voltage unit with a normally open and normally closed isolated relay, allowing it to interface with a third party energy management and/or lighting management control system. Additionally, the HS-100 can connect to one or more Watt Stopper Power Packs. The HS-150 is a line voltage unit that serves as a master switch for a single guest room circuit.
CARD KEY SWITCH, LOW VOLTAGE, GRAY