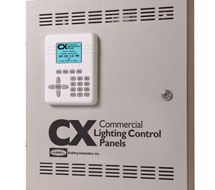 CX042S043LN | Hubbell Electrical Products | Lighting Controls
CX PNL 4 CAP 4 INST 120/208/240/277V 4-30A 1P LTCH
Manufacturer:
Hubbell Electrical Products
MPN:
CX042S043LN
SKU:
CX042S043LN
availability:Usually Ships in Less Than 21 Business Days
add to cart

product family specifications
Supplied w/multi-tap transformer
CX4,CX8 120/208/240/277/347 VAC, 40VA
CX16,CX24 120/277/347/480 VAC, 100VA
Short Circuit Current (SCCR)
Latching relay = 14K amps, Non-latching = 18K amps
Lighting Relay Output Capacity
4 wire (±24VDC, ±DI, & LED indication available)
CRX4 2 standard, plus 1 for each relay, 6 total
CRX8 4 standard, plus 1 for each relay, 12 total
CRX16 4 standard, plus 1 for each relay, 20 total
CRX24 6 standard, plus 1 for each relay, 30 total
SPST dry contact, N.O or N.C , Latching or Non-latching (per order)
CXR3L Typical latching relay
Ballast 120/277VAC @30A, 347VAC @20A
Other Relay Specifications
Button w/ LED status and keyboard interface
2.25″ x 1.75″ LCD w/button interface
Astronomic w/64 Programmable schedules and DST
Built in touch screen and SD card for transport
32 Configurable groups and 99 scheduled holidays
Surface w/key hinged door
CX04, 08 17″H x 14.5″W x 4″D, (43 x 37 x 10 cm)
CX16, 24 24″H x 20″W x 4″D, (61 x 51 x 10 cm)
product family features
Four relay panel sizes 4, 8, 16, and 24 relay spaces
Five types of relays 20A/1P and 20A/2P, NO, NC (14K SCCR) and 30A/P latching (18K SCCR)
Door mounted LCD user interface with keypad
365 day programming with 64 schedules
Astronomical and real time clock
Selectable pre-programmed scenarios
Programmable inputs accept low voltage switches, photocells, or motion sensors
Two low voltage dry contact output relays on 8 relay panel
Program uploads via removable SD memory card
more information & related documents
The Hubbell CX Series Commercial Lighting Control Panels provide cost-effective lighting control for maximum energy savings. The LCD user interface is located in the door and utilizes simple and intuitive scrolling menus to program, check status or update the panel. The easy to use Pre-Programmed Scenarios Menu makes project commissioning simple and fast. The CX panels can save up to 50% in labor and materials when used in place of conventional time clock and contactor combinations.
CX PNL 4 CAP 4 INST 120/208/240/277V 4-30A 1P LTCH
Hubbell Electrical Products