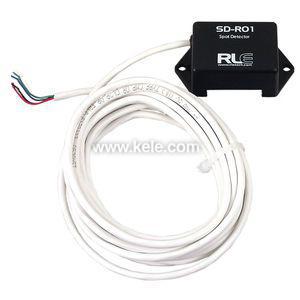 SD-R01 | RLE Technologies | Level
Spot Leak Detector
Manufacturer:
RLE Technologies
MPN:
SD-R01
SKU:
SD-R01
Availability:
163 In Stock
add to cart

product family features
Adjustable sensing probe height
No exposed metal sensing posts
All components encapsulated against moisture
Functions when submerged in water
Switching capability 0.5A at 120 VAC
more information & related documents
The Model SD-RO1 spot leak detector is an economical solution for detecting fluids in small, confined areas, such as drip pans. These leak detectors can be used to detect a water leak or other liquid. This leak detection equipment is designed with polymer coated sensing probes to detect conductive fluids at a single point. With the leak detectors, the height of the probes can easily be adjusted to the desired position by simply bending them. Units can be screwed or glued to the floor or baseboard for quick installation, making them a labor-saving and versatile choice for Building Automation Systems, BAS, and HVAC application.
SPOT DET CONDCTV FLUIDS 14' LEADER CABLE RELAY
SD-RO1 Quick Start