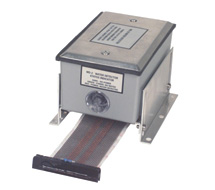 WD-2-T-100 | Kele | Level
100' TAPE STYLE WATER DETECTOR
Manufacturer:
Kele
MPN:
WD-2-T-100
SKU:
WD-2-T-100
add to cart

product family specifications
11-27 VAC @ 2.4 VA; 11-27 VDC @ 60 mA
1 A @ 24 VAC/VDC, 1/2 A @ 120 VAC
3 mil copper fiber, 1/4" gap
Detector: 32° to 158°F (0° to 70°C) Tape: 32° to 180°F (0° to 82°C)
Cast aluminum, weather resistant; NEMA 4
4.23"H x 3.75"W x 4.5"D (10.7 x 9.5 x 11.4 cm)
0.98 lb (6.44 Kg) (without tape)
product family features
Weather resistant enclosure
Designed to minimize external noise pickup
SPDT alarm and trouble relay contacts
Relay action jumper selectable
Continuous tape integrity self-check
Power/Alarm/Trouble status LED (green, red, green/red)
Sensor tape lengths of 10 ft (3.1m), 25 ft (7.6m), 50 ft (15.2m), 100 ft (30.5m)
Floor or under-pipe mounting
Able to convert to two alarm relays
more information & related documents
The Model WD-2-T tape style water detector uses a self-adhesive sensor tape with copper fiber electrodes and a durable netted cover for dependable detection of conductive liquids anywhere along the length of tape. The Model WD-2-T is ideal for HVAC and Building Automation System, BAS, applications. It includes a tape integrity self-check feature, which activates a trouble output if the tape is unplugged, broken, or cut. Alarm relays may be independently jumpered to energize or de-energize upon water or trouble detection.
100' TAPE STYLE WATER DETECTOR