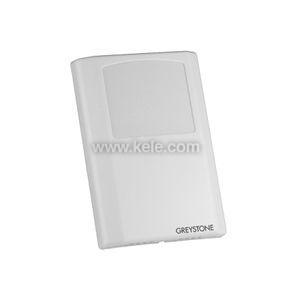 HTRC3NVF | Greystone Energy Systems | Humidity
Room Humidity and Temperature Transmitter, Wall Mount, 3%, Concealed LCD Display, 0-5 VDC or 0-10 VDC (Menu Selectable), Fan Speed Switch
Manufacturer:
Greystone Energy Systems
MPN:
HTRC3NVF
SKU:
HTRC3NVF
availability:Usually Ships in Less Than 8 Business Days
add to cart

product specifications
Humidification||Dehumidification||Monitoring Indoor Space Humidity||Clean Rooms||Hospitals||Process Control||Laboratories,Museums||Schools||Office Buildings||Data Centers||ESD (Anti-Static) Control
Room Humidity and Temperature Transmitter, Wall Mount, 3%, Concealed LCD Display, 0-5 VDC or 0-10 VDC (Menu Selectable), Fan Speed Switch
RH XMTR, WALL, ±3.00%, 0-5 VDC OR 0-10 VDC, TEMP XMTR
0° to 35°C||32° to 95°F||0° to 50°C||32° to 12°2F
more information & related documents
The Greystone Energy Systems HRC Series Executive Wall Humidity transmitters are specifically designed for use in HVAC/BAS applications. These instruments measure relative humidity from 0% to 100%. The Greystone Energy Systems HTRC Executive Wall Series Humidity transmitters has dual analog outputs for humidity and temperature.
3% HUM/TEMP WALL 0-5/10 VDC 32-95F COMM JACK