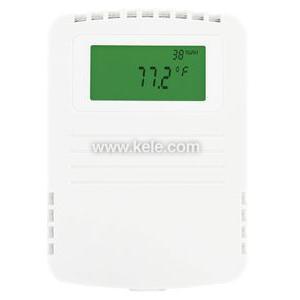 RHP-2W2A-LCD | Dwyer Instruments | Humidity
Relative Humidity Transmitter, 2% Accuracy, Wall Mount, 0-10 VDC RH Output, 10KΩ @ 25°C thermistor type III, LCD Display
Manufacturer:
Dwyer Instruments
MPN:
RHP-2W2A-LCD
SKU:
RHP-2W2A-LCD
availability:Usually Ships in Less Than 8 Business Days
add to cart

product specifications
Humidification||Dehumidification||Monitoring Indoor Space Humidity||Clean Rooms||Hospitals||Process Control||Laboratories,Museums||Schools||Office Buildings||Data Centers||ESD (Anti-Static) Control
Relative Humidity Transmitter, 2% Accuracy, Wall Mount, 0-10 VDC RH Output, 10KΩ @ 25°C thermistor type III, LCD Display
RH XMTR, WALL, ±2.00%, 0-10 VDC||0-5 VDC, 10K TYPE III
product family features
Field selectable temperature units, humidity or dew point outputs
Field replaceable humidity and temperature sensors
more information & related documents
The Dwyer RHP-W Series Wall Mount Humidity/Temperature/Dew Point Transmitter is the most versatile room transmitter on the market. The stylish housing is well vented to provide air flow across the sensor to improve measurement accuracy. An optional LCD display can be integral to the transmitter or a remote display can be ordered for building balancing or LEED® validation. The LCD display indicates the ambient temperature along with the humidity or dew point. The transmitter has internal dip switches to select the temperature engineering units and whether the transmitter outputs humidity or dew point. The humidity and temperature sensors are field replaceable to reduce service cost and inventory. The humidity and the dew point are measured using a capacitive polymer sensor that completely recovers from 100% saturation. The humidity and dew point can have either a current or voltage output, while the optional temperature output can be a current, voltage, RTD or thermistor.
2% WALL RH/TEMP XMITER 0-10VDC 10K III LCD
Specifications - Installation and Operating Instructions