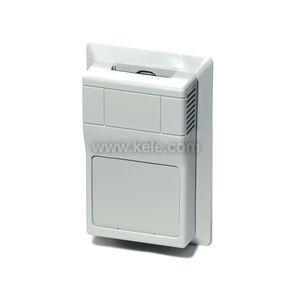 A/RH2-1K-2W-R | ACI | Humidity
Humidity Sensor, Wall, ±2.00%, Field Selectable Output, 1K RTD 385
Manufacturer:
ACI
MPN:
A/RH2-1K-2W-R
SKU:
A/RH2-1K-R
add to cart

product specifications
Humidification||Dehumidification||Monitoring Indoor Space Humidity||Clean Rooms||Hospitals||Process Control||Laboratories,Museums||Schools||Office Buildings||Data Centers||ESD (Anti-Static) Control
Humidity Sensor, Wall, ±2.00%, Field Selectable Output, 1K RTD 385
4-20 mA||0-5 VDC||0-10 VDC
HUMIDITY SENSOR, WALL, ±2.00%, FLD SEL OUT, 1K RTD 385
product family features
Duct and OSA twist-off NEMA 4 housing
Field selectable current or voltage outputs
Single point field calibration
Optional temperature sensor
more information & related documents
The ACI A/RH2 Series Relative Humidity Transmitters utilize a capacitive humidity sensor element to deliver a proportional 4 to 20 mA, 0 to 5 volt DC, or 0 to 10 volt DC output. Each relative humidity transmitter can monitor room and duct humidity as well as outside moisture. The transmitters are compatible with stainless steel wall plate applications and are designed for use in Building Automation Systems, BAS, and HVAC applications. The A/RH2 Series has on board DIP switches. These allow the user to select the desired output signal and can be powered by AC or DC power sources. Each A/RH2 Series humidity transmitter is calibrated using a NIST Traceable Temperature/Humidity Chamber. Three and five point NIST calibration certificates are available.
2% WALL MOUNT RH XMTR W/TEMP SENSOR 1K OHM RTD 383
ACI RH Duct and OSA Series Installation and Operation Instructions