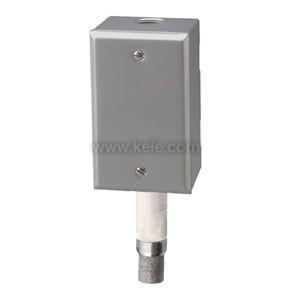 BA/10K-3[11K]-H300-O-WP | BAPI | Humidity
10K-3[11K] Thermistor, ±3% Humidity Transmitter with Interchangeable Output of 0 to 5 V or 4 to 20 mA, Outside Air, Weatherproof Enclosure
Manufacturer:
BAPI
MPN:
BA/10K-3[11K]-H300-O-WP
SKU:
BA10K311H300OWP
Availability:
Usually Ships in Less Than 10 Business Days
add to cart

product specifications
DCPA-1.2||DCP-1.5-W||T81U-XR||T85U-XR||UR
Outdoor Air Humidity||Economizer Control||Psychrometric Calculations||Enthalpy||Dew Point||Wash Down Applications
10K-3[11K] Thermistor, ±3% Humidity Transmitter with Interchangeable Output of 0 to 5 V or 4 to 20 mA, Outside Air, Weatherproof Enclosure
RH XMTR, OSA, ±3.00%, 0-5 VDC OR 4-20 MA, 10K TYPE III [11K SHUNT]
product family features
Accuracies of 2%, 3% or 5%
Duct and OSA twist-off NEMA 4 housing
24 VDC or 24 VAC power (field-selectable)
4-20 mA, 0-10V, or 0-5V signal (field-selectable)
Optional temperature sensor
more information & related documents
The BAPI BA/H Series 3% accuracy humidity transmitters are designed specifically for HVAC/BAS applications. The room transmitters use Delta or BAPI-Stat II enclosures with optional communication jacks. All duct and OSA units come in weatherproof enclosures selectable for NEMA 3R or IP66 applications. All BA/H transmitters have optional temperature sensors or temperature transmitters. Transmitter outputs include 4-20mA, 0-5V ad 0-10V with replaceable sensors.
3% RH OSA 4/20MA ALUM BOX 10K-3 THMS 11K SHUNT