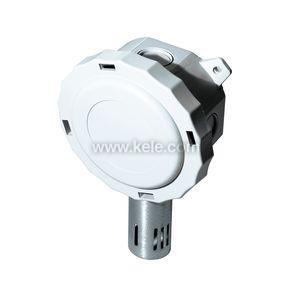 A/RH5-20K-O | ACI | Humidity
Humidity Sensor, OSA, ±5.00%, Field Selectable Output, 20K
Manufacturer:
ACI
MPN:
A/RH5-20K-O
SKU:
A/RH5-20K-O
availability:Usually Ships in Less Than 11 Business Days
add to cart

product specifications
Outdoor Air Humidity||Economizer Control||Psychrometric Calculations||Enthalpy||Dew Point||Wash Down Applications
Humidity Sensor, OSA, ±5.00%, Field Selectable Output, 20K
4-20 mA||0-5 VDC||0-10 VDC
HUMIDITY SENSOR, OSA, ±5.00%, FLD SEL OUT, 20K
product family features
Duct and OSA twist-off NEMA 4 housing
Field selectable current or voltage outputs
Single point field calibration
Optional temperature sensor
more information & related documents
The ACI A/RH5 Series relative humidity transmitters are specifically designed for HVAC/BAS applications and have proportional 4 to 20 mA, 0 to 5 VDC, or 0 to 10 VDC output for 5% measurement. It is available for room, duct, outside, and stainless steel wall plate applications. The A/RH5 Series has on board DIP switches which allow the user to select the desired output signal and can be powered by AC or DC power sources.
5% OUTSIDE AIR RH XMTR W/TEMP SNSR 20K OHM THMS
ACI RH Duct and OSA Series Installation and Operation Instructions