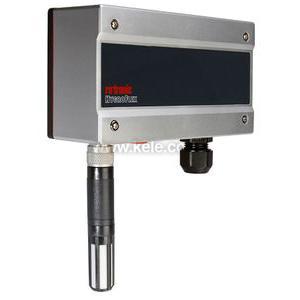 HF532-WD6XX14X | Rotronic Instrument | Humidity
Humidity Transmitter, 3 Wire, 4-20 mA, Wall Mount, Temperature & Enthalpy, No Keypad or Display, 1x ½" Conduit Adapter (Horizontal Mounting), 0° to 100°F (-18° to 38°C), Hydroclip Standard Climate Probe
Manufacturer:
Rotronic Instrument
MPN:
HF532-WD6XX14X
SKU:
HF532-WD6XX14X
availability:Usually Ships in Less Than 21 Business Days
add to cart

product specifications
691-K0A||DCPA-1.2||DCP-1.5-W||T81U-XR||T85U-XR||UR
Humidification||Dehumidification||Supply||Discharge||Return Air||Economizers||Clean Rooms||Data Centers||Process Control||Schools||Hospitals||Office Buildings
Humidity Transmitter, 3 Wire, 4-20 mA, Wall Mount, Temperature & Enthalpy, No Keypad or Display, 1x ½" Conduit Adapter (Horizontal Mounting), 0° to 100°F (-18° to 38°C), Hydroclip Standard Climate Probe
RH XMTR, WALL, ±0.80%, 4-20 MA, -32° TO 212°F
0° to 100°C||-32° to 212°F
product family features
Calculates all psychrometric values
Automatic sensor and drift compensation
Optional DIN rail mounting
Field configurable with software
more information & related documents
The Rotronic HF5 Series high performance multi parameter humidity and temperature transmitters are ideal for all applications where exact measurement of humidity, enthalpy, dry bulb, wet bulb, temperatures plus other psychrometric parameters are critical. This high performance transmitter accurately measures relative humidity to within ±0.8% RH. The HydroClip2 probe can be individually calibrated and adjusted to increase measurement precision where you need it the most. The HF5 Series is available in a duct mount or wall mount configuration. This unit can be factory configured or software is available for field configuration.
WALL, TEMP AND ENT, NO DISPLAY, 0-100F, 0-100 ENT, 3 WIRE, 4-20 MA
HF5 Series Datasheet