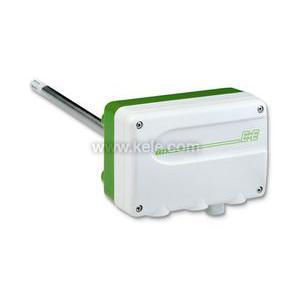 EE23-MFTB36SWHC01AB2T05 | E+E Elektronik | Humidity
Humidity and Temperature Transmitter, Metal Housing, Duct Mount, Stainless Steel Sintered Filter, 400 mm Probe, Alarm Output, Coated Sensor, Relative Humidity and Temperature Outputs, 0-5 VDC, 0° to 100°F
Manufacturer:
E+E Elektronik
MPN:
EE23-MFTB36SWHC01AB2T05
SKU:
EE23MB6SAB205
availability:Usually Ships in Less Than 21 Business Days
add to cart

product specifications
Humidification||Dehumidification||Supply||Discharge||Return Air||Economizers||Clean Rooms||Data Centers||Process Control||Schools||Hospitals||Office Buildings
Humidity and Temperature Transmitter, Metal Housing, Duct Mount, Stainless Steel Sintered Filter, 400 mm Probe, Alarm Output, Coated Sensor, Relative Humidity and Temperature Outputs, 0-5 VDC, 0° to 100°F
RH XMTR, DUCT, ±1.30%, 0-5 VDC, TEMP XMTR
product family features
Humidity and temperature calibration
Stainless steel sintered filter
more information & related documents
The E+E EE23 Series humidity and temperature transmitter has been developed for high-precision measurement of relative humidity and temperature. EE23 Series transmitters are available for wall and duct mounting with or without the snap inmounting kit, which allows a quick and easy exchange of the transmitter. Outputs can be selected between voltage and current. A special protection coating for the sensing element permits the permanent use in very polluted environments.
1.3% HUM MTL DUCT 15.8IN RH/T 0-5VDC 0/100F SW