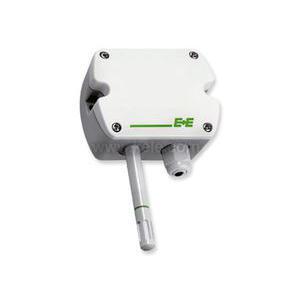 EE210HT3XPAXDUW005TX005N | E+E Elektronik | Humidity
Humidity and Temperature Sensor, 0-10 VDC, Wall Mount, No Display, Stainless Steel Sintered Filter
Manufacturer:
E+E Elektronik
MPN:
EE210HT3XPAXDUW005TX005N
SKU:
EE210HT3XPAXD
availability:Usually Ships in Less Than 42 Business Days
add to cart

product specifications
Outdoor Air Humidity||Economizer Control||Psychrometric Calculations||Enthalpy||Dew Point||Wash Down Applications||Agriculture||Stables||Incubators||Hatchers||Green Houses||Storage Rooms||Cooling Chambers||Indoor Pools
Humidity and Temperature Sensor, 0-10 VDC, Wall Mount, No Display, Stainless Steel Sintered Filter
RH XMTR, WALL, ±1.30%, 0-10 VDC, 1K RTD 385
more information & related documents
The E+E model EE210 relative humidity/yemperature transmitter provides RH readings at +/-1.3% accuracy using a capacitive sensor offering 10% to 90% operating range. The transmitter comes in wall, duct and remote mounting styles. The transmitter has multiple field selectable outputs including 4-20mA, 0-10V and 0-5 VDC. The supply power required can be 24 VAC or 24 VDC.
1.3% HUM TEMP 0-10V WALL 0/100F