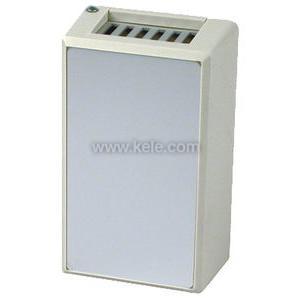 HT839S1N2N | Minco Products | Humidity
Relative Humidity and Temperature Transmitter, Space Room/Office Mounting, 4-20 mA, 2% RH from 0/90% @ 25°C, Temperature Matched at 0°C with NIST Certificate, (32°/122°F) or (0°/50°C)
Manufacturer:
Minco Products
MPN:
HT839S1N2N
SKU:
HT839S1N2N
availability:Usually Ships in Less Than 21 Business Days
add to cart

product specifications
Humidification||Dehumidification||Monitoring Indoor Space Humidity||Clean Rooms||Hospitals||Process Control||Laboratories,Museums||Schools||Office Buildings||Data Centers||ESD (Anti-Static) Control
Relative Humidity and Temperature Transmitter, Space Room/Office Mounting, 4-20 mA, 2% RH from 0/90% @ 25°C, Temperature Matched at 0°C with NIST Certificate, (32°/122°F) or (0°/50°C)
RH XMTR, WALL, ±2.00%, 4-20 MA, 1K RTD 385
product family features
Temperature-compensated IC sensor
One-point field calibration, RH or temperature
Weatherproof housing for OSA and duct
more information & related documents
The Minco Model HT829 Relative Humidity Transmitter measures 0% to 100% RH over a range of -10° to 185°F (-23° to 85°C). The standard two-wire, 4-20 mA output provides low-cost space, duct, and outdoor monitoring or process and industrial building control. A temperature sensor built into the integrated circuit provides temperature compensation over the full temperature range. The HT829 Series is field-rangeable for field recalibration. These transmitters are proven performers for use in Building Automation Systems, BAS, and HVAC applications.
2% ROOM RH T XMTR 32/122F NIST
HT829, HT839 Installation Sheets