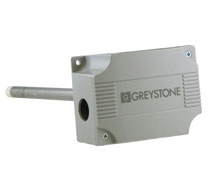 RH210A05C2A1 | Greystone Energy Systems | Humidity
5% HUM/TEMP TRANS DUCT 4-20MA 0-35C
Manufacturer:
Greystone Energy Systems
MPN:
RH210A05C2A1
SKU:
RH210A05C2A1
availability:Contact Kele for more information
add to cart

product family specifications
more information & related documents
The Greystone Energy Systems RH200 Series Duct Humidity transmitters are specifically designed for use in HVAC/BAS applications. These instruments measure relative humidity from 0% to 100%. The Greystone Energy Systems RH210 Series Duct Humidity transmitters has dual analog outputs for humidity and temperature.
5% HUM/TEMP TRANS DUCT 4-20MA 0-35C