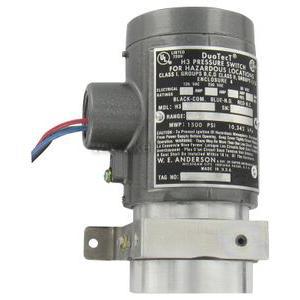 H3A-4ST-VIT | Dwyer Instruments | Hazardous Locations
Differential Pressure Switch, Aluminum/Nitrile, 0 - 200 psid, SPDT Snap Switch, Terminal Block-UL/CSA Approved, Fluoroelastomer Diaphragm & O-rings
Manufacturer:
Dwyer Instruments
MPN:
H3A-4ST-VIT
SKU:
H3A-4ST-VIT
availability:Usually Ships in Less Than 10 Business Days
add to cart

product specifications
5 A @ 125 VAC||5 A @ 250 VAC
Differential Pressure Switch, Aluminum/Nitrile, 0 - 200 psid, SPDT Snap Switch, Terminal Block-UL/CSA Approved, Fluoroelastomer Diaphragm & O-rings
DIFF PRESS SW, ADJUST, 0-200 PSID
product family features
Set-points up to 200 psid
Suitable for hazardous locations
more information & related documents
The Dwyer H3 Series adjustable differential pressure switches actuate one or two single pole, double throw (SPDT) snap switches in response to increasing or decreasing pressure of compatible gases or liquids. Four field adjustable operating ranges are available allowing set-points up to 200 psid. All models are suitable for hazardous locations and also include weatherproof housings as detailed in the chart below. Read and understand instructions completely before proceeding with installation or operation.
XPRF DPRES, ALUM 10-200PSID SPDT FLUOR DIAP ORINGS