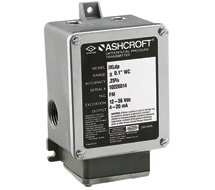 IX5F4SP05IWLXFM | Ashcroft, Inc. | Hazardous Locations
IS DP TRANSMITTER -0.05IN TO 0.05IN WC 0.5%
Manufacturer:
Ashcroft, Inc.
MPN:
IX5F4SP05IWLXFM
SKU:
IX5F4SP05IWLXFM
availability:Usually Ships in Less Than 42 Business Days
add to cart

product family specifications
Intrinsically Safe Class I, II, III;Div 1 and 2, Groups A through G Non-incendive Class I, Div 2, Groups A through D; Class II, Div 2, Groups F, G, Class III
Vmax=30V, Imax=100mA, Po=1 W, Ci=50nf, Li=0&#0181h
-20° to 185℉ (-29° to 85℃)
Clean, dry, noncorrosive gas
product family features
100 psig static line pressure
0.25% or 0.5% accuracy down to 0.05 ″W.C.″
Uni-directional or bidirectional ranges
300 Series cast stainless steel body
NIST certificate included
more information & related documents
The Ashcroft Model IXLdp (XFM option) is an intrinsically safe, industrial-quality, differential pressure transmitter for use on air and other noncorrosive gases. The Model IXLdp is available with accuracies of 0.25% and 0.50% in pressure ranges of 0.1 ″W.C. to 200 ″W.C. uni-directional or bi-directional.
IS DP TRANSMITTER -0.05IN TO 0.05IN WC 0.5%
IXLdp Installation Instructions