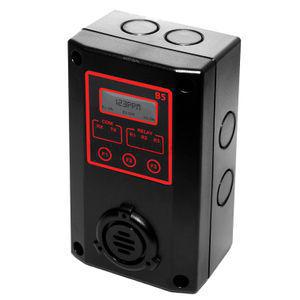 B5-BUTAN-100L-0-X | ACI | Gas & Specialty Sensors
Butanol, N-Butane, Catalytic Bead, 0-100% LEL BACnet
Manufacturer:
ACI
MPN:
B5-BUTAN-100L-0-X
SKU:
B5BUTAN100L0X
availability:Usually Ships in Less Than 21 Business Days
add to cart

product specifications
Butanol, N-Butane, Catalytic Bead, 0-100% LEL BACnet
BUTANOL, N-BUTANE, CATALYTIC BEAD, 0-100% LEL BACNET
product family features
Modbus or BacNet MS/TP compatible
Wide variety of gases detected
more information & related documents
The ACI Q5 & B5 Series Network Compatible Gas Detectors Series is a microprocessor based ″smart″ gas transmitter that is paired with either an electronichemical gas sensor for toxic gases or a catalytic bead sensor for combustible gases. The user can select from numerous display options, including relay status, time, concentration and other data or nothing at all. All programming and calibration is nonproprietary and is accessed through a user selectable password that protects system intergrity.
BUTANOL, N-BUTANE CATALYTIC BEAD 0-100% LEL BACNET