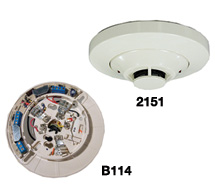 * product family image displayed
B114LP | System Sensor | Gas & Specialty Sensors
BASE FOR 2151 120 VAC
Manufacturer:
System Sensor
MPN:
B114LP
SKU:
B114LP
Availability:
Usually Ships in Less Than 7 Business Days
add to cart

product family specifications
120 VAC, Non-polarity reversal (any color wires)
24 VAC @ 0.8 VA; 24 VDC @ 35 mA; non-polarity reversal (any color wires)
2.0 A @ 30 VAC/VDC (Form A)
2.0 A @ 30 VAC/VDC; 1.0 A @ 120 VAC (Form C)
Solid or stranded, 12 to 22 AWG terminals
10% to 93% RH non-condensing
4" Dia. x 1.66"H (10.2 x4.2 cm)
6.2″ Dia. x 2.2″H (15.5 x 5.6 cm)
6.2″ Dia. x 0.95″H (15.5 x 2.4 cm)
product family features
24 VAC, 24 VDC or 115 VAC (model specific)
Visual indication of power and alarm status
One alarm contact, Supervisory contact and Auxillary contact
Compatible with building automation and fire alarm systems
Dust filtering included in detector head
more information & related documents
The System Sensor 2151 pendant smoke detector and B114 bases provide early detection of smoke and combustion products present in air moving through HVAC plenum return systems in commercial rooftop package unit applications. The detectors are designed to prevent the recirculation of smoke in areas by the air handling system's fans and blowers.The 2151 must be mounted to B114 base for either 120 VAC or 24 VAC/VDC supply voltages.
2151 and B114 Series Datasheet