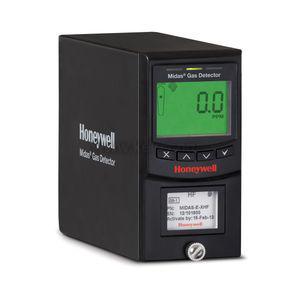 MIDAS-K-HFL | Honeywell Analytics | Gas & Specialty Sensors
Boron trifluoride (BF3), low level, hydrogen fluoride (HF), low level (LDL = 0.22 ppm), tungsten hexafluoride (WF6), low level Midas Cartridge and Transmitter Kit
Manufacturer:
Honeywell Analytics
MPN:
MIDAS-K-HFL
SKU:
MIDAS-K-HFL
availability:Usually Ships in Less Than 21 Business Days
add to cart

product specifications
Boron trifluoride (BF3), low level, hydrogen fluoride (HF), low level (LDL = 0.22 ppm), tungsten hexafluoride (WF6), low level Midas Cartridge and Transmitter Kit
MIDAS NH3 CART AND TRANSMITTER KIT
product family features
Three alarm levels with N.O. or N.C. alarm contacts
4 digit display status indication
10 foot (3m) sampling tube and exhaust included
Local indication of current and peak gas levels
Modbus/TCP communication protocol
more information & related documents
The Honeywell Analytics MIDAS-K-NH3 Series Single Zone Ammonia Gas Monitor is designed for single point monitoring of ammonia gas with up to 100 ft (30 m) maximum distance from measuring point to monitor. The unit features a digital display for local indication of current gas levels and peak value. Included is three relay outputs. The MIDAS-K-NH3 provides a system fault relay output and a 4 to 20 mA output for integration with remote monitoring equipment or building management systems. The MIDAS-K-NH3 is designed to be used as part of a control system that helps to prevent the formation of a hazardous environment when properly installed and maintained.
SINGLE ZONE BF3 AND HF AND WF6 MONITOR