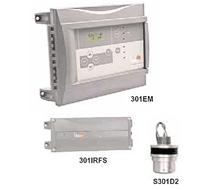 M-700328 | Honeywell Analytics | Gas & Specialty Sensors
LED LIGHT MODULE 24V AC/DC BLUE
Manufacturer:
Honeywell Analytics
MPN:
M-700328
SKU:
M-700328
availability:Usually Ships in Less Than 21 Business Days
add to cart

product family specifications
22-27 VAC @ 48 VA, 50/60 Hz or 22-38 VDC @ 2 A max.
4-20mA, 1000Ω @ 24 vdc each sensor
Up to 500 feet (160 m), 200 ft (60.9m) maximum
Green - Normal Red - Alarms A, B, & C Yellow - Fault/Service Alarm Amber - Tx (network mode)
4 DPDT relays (20 ppm diff)
(4) 5A, 30 VDC or 250 VAC (resistive)
Alarm Auditory Levels [Db]
65 dBA @ 3 ft (1m) internal
CO, NO2, R11, R12, R123, R125, R134A, R22
-40° to 104°F (-40 to 40°C)
0% to 95% RH (noncondensing)
7.99"H x 11.02"W x 2.76"D (20.3 x 28 x 7 cm)
4.02"H x 11.02"W x 2.48"D (10.2 x 28 x 6.3 cm)
3″H x 2″ Diameter (7.6 x 5.1 cm)
product family features
Sense one to twenty zones
Sensors available for toxic and combustible gases and refrigerants
RS-485 Modbus communication
Contact input for manual break-glass switches
Three 24VDC outputs to activate strobes and horns
4-20mA output for each sensor
Explosionproof sensors for combustible and toxic gases
Additional gases availible
Programmable relay differential
more information & related documents
The Honeywell Analytics 301EM Series Gas Detection Expansion Module allows the monitoring of toxic and combustible gases and refrigerants. Up to four sensors can be placed 500' away for toxic and combustible gases, and 200' away for refrigerant gas monitoring. The transmitter is equipped with a backlit LCD display and keypad that can be placed in a safe area, remote from the sensors. Alarm relays and Modbus communication are standard. The unit is compatible with the 301C controller.
LED LIGHT MODULE 24V AC/DC BLUE