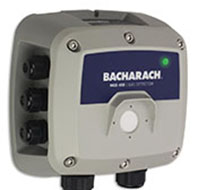 6302-2160 | Bacharach | Gas & Specialty Sensors
MGS450 GAS DETECTOR R450A IP66 3 RELAYS ANALOG AND MODBUS OUTPUT 0-1,000 PPM
Manufacturer:
Bacharach
MPN:
6302-2160
SKU:
6302-2160
availability:Usually Ships in Less Than 15 Business Days
add to cart

product family specifications
8.3″ × 8.9″ × 3.4″ (210 × 225 × 85 mm)
Configurable (0 to 15 minutes)
Tactile switches (×2), magnetic switches (×2)
Analog Output - 4 to 20 mA, 0 to 5V, 0 to 10V, 1 to 5V (default) or 2 to 10V
Bluetooth® low energy, BLE 4.2
product family features
LED status indication

Integrates with gas detectors

Power gas detectors

Modbus RTU master to gas detectors

Modbus RTU slave to BMS / BAS

Event logging via SD Card

Display screen

Audible and visual alarms
more information & related documents
The Bacharach MGS-450 Series is a feature-rich refrigerant, toxic and combustible gas detector with a remote sensor (up to 16ft or 5m). The MGS-450 Series can be connected to a building management system using Modbus, MGS-408 Series gas detection controllers, or as a standalone gas detector for low-temperature, IP66 applications. In addition, the MGS-450 Series includes 3-output relays (fault, low alarm, high alarm) and an analog output for local alarming, auxiliary ventilation, or refrigerant flow restriction. The MGS-450 Series is ideal for all AHSRAE 15 or EN378 safety compliance applications, including cold storage, freezers, coolers, or mechanical room applications.
MGS450 GAS DETECTOR R450A IP66 3 RELAYS ANALOG AND MODBUS OUTPUT 0-1,000 PPM