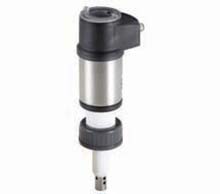 562549 | Burkert Controlmatic | Gas & Specialty Sensors
NEUTRINO TRANSMITTER C=1.0
Manufacturer:
Burkert Controlmatic
MPN:
562549
SKU:
562549
add to cart

product family specifications
14-36 VDC reversed polarity protection
Conductivity: ± 3% of measured value
With Sensor:≤ 1 A (with transistor loads) analog output: ≤ 25 mA (at 14 VDC without transistor loads, with current loop)
Switch: Transistor, 1-36 VDC @ 0.5 A max.
Conductivity: 0.05 μS/cm to 10 mS/cm Temperature: -40° to 266°F (-40° to +130°C)
Grey dot matrix 128x64 with backlighting
Materials Of Construction
Housing / cover: Stainless steel 1.4561, PPS / PC Seals / Screws EPDM / Stainless steel Fixed connector mounting plate: Stainless steel Fixed connector: Brass nickel plated Display / navigation key: PC / PBT Nut: PVC or PVDF Wetted part materials Conductivity sensor: PVDF, stainless steel 1.4571 (316Ti) Electrode: Stainless steel 1.4571 (316Ti ) for cell constant C=0.01 or C=0.1 or graphite for cell constant C=1.0
Single analog output: 1x 5-pin M12 male fixed connector
PVC nut connection: 32° to 122°F (0° to +50°C)
≤ 85%, without condensation
Transmitter: 14° to 140°F (-10° to +60°C); Probe 32° to 140°F (0° to +60°C)
NEMA 4, IP65 and IP67 with M12 cable plug mounted and cover tightened
9.6″H x 2.6″W x 3.8″ D (24.4 x 6.5 x 9.7 cm)
7.4″H x 2.4″W x 3.4″D (18.7 x 6.0 x 8.8 cm)
0.88 lb (0.4 Kg) complete unit
0.52 lb (0.24 Kg) complete unit
product family features
Programmable outputs: two transistor and single or dual analog 4-20 mA
Removable backlighted display
Universal process connection
Three cell constants for covering a wide measuring range C = 0.01, 0.1 and 1.0 standard
Additional material contruction: PVC or PVDF
more information & related documents
The Burkert 50000 Conductivity Series is a compact transmitter designed for measuring the conductivity of fluids. The transmitter consists of a sensor, enclosure with cover, and an optional and removeable display. The sensor comprises a cell with two electrodes and a platinum 1000 ohm temperature probe. The sensor itself is available with three different cell constants; C = 0.01, 0.1, and 1.0. The C = 1.0 constant uses graphit electyrode, while the other two incorporate stainless steel. The conductivity transmitter can operate independant of the display but the display is required for programming the transmitter. The 50000 Series is available with three fully programmable outputs (two transistor and one 4-20 mA analog output). The 50000 "Neutrino" Series, a less featured conductivity transmitter, has only one 4-20 mA analog output and is not available with LCD display.
NEUTRINO TRANSMITTER C=1.0