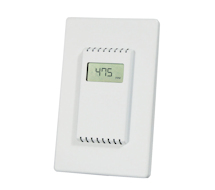 * product family image displayed
CT1D-C3D | Senva | Gas & Specialty Sensors
CO2 DUCT LCD 100PT RTD
Manufacturer:
Senva
MPN:
CT1D-C3D
SKU:
CT1D-C3D
Availability:
Usually Ships in Less Than 6 Business Days
add to cart

product family specifications
12-30VDC/24VAC(1), 100mA max.
Dual Analog 3-wire 4-20mA and 0-5V/0-10V (2) (jumper)
Output scaling 0 - 2000 or 0 - 5000 ppm (selectable)
Programmable Solid-state, 1A @ 30VAC/DC, N.O.
Type Non-dispersive Infrared (NDIR)
Accuracy ±40ppm, ±3% of reading
Response time 60 seconds to 90% reading
Output update rate 3 seconds
LCD Menu Setup Parameters
SPH, Setpoint, Hi (On point) 500ppm to full-scale (700ppm default)
SPL, Setpoint, Lo (Off point) 400ppm to full-scale-50 (600ppm default)
SCL, Scaling 0-2000ppm or 0-5000ppm (2000ppm default)
ADJ, Adjustment Offset adjustment +/-250ppm (0 default)
CAL, Calibration mode Automatic mode ON or OFF (default=ON)
RUN, Run mode Displays CO2 in ppm
Temperature 32 to 122℉ (0 to 50℃)
Humidity 0-95% non-condensing
Dimensions 4.7″h x 2.9″w x 1.24″d (0.48″ wall profile)
7 years on electronics, 3 years on CO2
product family features
Demanding architectural standards
▪ Fits in most standard j-box or low voltage brackets.
▪ No exposed screws; unobtrusive tamper resistant design
▪ Popular colors to match any decor
Easy to install and maintain
▪ Integrated display and push-button menus for field selectable scale, calibration, and operational modes
▪ Dual 4-20mA and 0-5V/0-10V output (jumper selectable)
▪ Integrated high-reliability solid-state set-point relay is ideal for direct control applications; easy to set up thanks to LCD
High reliability reduces call backs
▪ Non-dispersive infrared sensing element (NDIR)
▪ Field replaceable CO2 sensor
▪ 15+ year life expectancy on CO2 sensing element
▪ Industry leading 7-year limited warranty on electronics; NDIR module 3 years
High accuracy for improved system performance
▪ Selectable auto-calibration mode returns sensor to baseline values
more information & related documents
The Senva CO2RL Wall CO2 Transmitter Series maximize energy savings by ensuring optimal ventilation. Measuring exhaled CO2 levels ensures air is conditioned only when needed. The CO2RL is a flush mount design sensor with NDIR sensing element and features that include a standard LCD, setpoint relay, menu selectable auto-calibration and provision to offset the reading +/-250ppm. When you need the right product, right now, count on Kele.