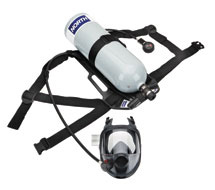 GAS-R410A-1000 | Norco | Gas & Specialty Sensors
1000 PPM R410/N2
Manufacturer:
Norco
MPN:
GAS-R410A-1000
SKU:
GAS-R410A-1000
availability:Usually Ships in Less Than 20 Business Days
add to cart

product family specifications
more information & related documents
The GAS Series Gas Cylinders are available in 17L or 58L sizes for a variety of different gases and refrigerants. The weight for 17L cylinders is 0.94 lb (0.42 kg) and 1.7 lb (0.77 kg) for 58L cylinders. The Model NIOSHSCBA Self-Contained Breathing Apparatus Kit provides dependable respiratory protection in hostile envirnoments. The unit meets NIOSH (National Institute for Occupational Safety and Health) requirements and has an assigned OSHA [rotection factor of 10,000. The kit includes a nylon harness assembly, hood, compact demand valve with adjustable flow bypass, and a filled 30 minute aluminum cylinder.
SCBA Walcase Datasheet