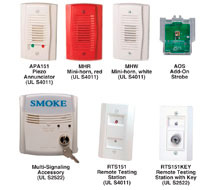 RTS151 | System Sensor | Gas & Specialty Sensors
REMOTE TEST STATION
Manufacturer:
System Sensor
MPN:
RTS151
SKU:
RTS151
add to cart

product family specifications
Alarm Auditory Levels [Db]
2.8″W x 4.5″H (6.9 x 11.4 cm)
4.5″W x 4.5″H (11.4 x 11.4 cm)
UL FIle #S4011 & #S2522, CSFM
more information & related documents
System Sensor provides flexibility with a variety of accessories for notification and test purposes. The smoke detector accessories add functionality to the detection system by allowing quick eye level inspections and audible/visual notification options. All System Sensor accessories are UL listed. APA151 The APA151 piezo annunciator provides an audible alarm signal and LED for alarm and status indication. The unit is designed for applications without a system control panel to comply with NFPA 90 A. MHR/MHW The MHR and MHW mini horns feature temporal or continuous tones at high or low volume settings. Designed for small or tight areas, the unit mounts to a single gang back box. RA100Z The RA100Z remote annunciators are designed for both conventional and intelligent applications. A red LED provides visual indication of an alarm condition. RTS151/RTS151KEY The RTS151 and RTS151KEY remote test stations are automatic fire detector accessories designed to test duct smoke detectors from a convenient location. The RTS151 features a multi-colored LED that alternates between steady green and red for four-wire detectors and illuminates red to indicate alarm when used with two-wire detectors. RTS2/RTS2-AOS The RTS2 and RTS2-AOS multi-signaling accessories are designed to work with four-wire conventional smoke detectors. The units feature a key switch that can be used to select one of two connected sensors to be tested, reset, or both by a push button switch.