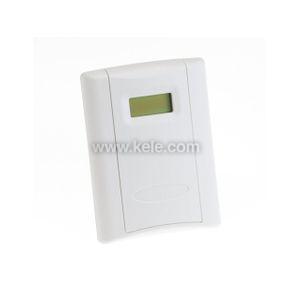 CWLPXT13 | Veris Industries | Gas & Specialty Sensors
CO2 Wall LCD 2%RH BACnet/Modbus Temp Push Button Set Point NIST 1Pt; Non-dispersive infrared technology (NDIR) repeatable to ±20 ppm & ± 1% of measured value; Innovative self-calibration algorithm; 5-year calibration interval (recommended); Low ambient sensitivity; Field-selectable outputs; Integrated transducer and probe; Snap-on faceplate; Adjustable duct probe
Manufacturer:
Veris Industries
MPN:
CWLPXT13
SKU:
CWLPXT13
availability:Usually Ships in Less Than 5 Business Days
add to cart

product specifications
CO2 Wall LCD 2%RH BACnet/Modbus Temp Push Button Set Point NIST 1Pt; Non-dispersive infrared technology (NDIR) repeatable to ±20 ppm & ± 1% of measured value; Innovative self-calibration algorithm; 5-year calibration interval (recommended); Low ambient sensitivity; Field-selectable outputs; Integrated transducer and probe; Snap-on faceplate; Adjustable duct probe
CO2 WALL LCD 2%RH BACNT/MODBS TMP PB STPT NIST 1PT
product family features
Microprocessor-based
Self-calibrating
NDIR
Snap-on faceplate
Field-selectable
Integrated probe
more information & related documents
The Veris CWL Series is a carbon dioxide (CO2) sensors that maximizes energy savings while helping optimize ventilation. The sensor allows ventilation systems to be controlled by the amount of CO2 present in a space. The CWL Series detect fluctuations in CO2 levels and signal ventilation systems to provide an inlet of fresh air optimal for the space at a given time, saving energy and increasing tenant comfort.
CO2,WALL,LCD,TMP,SPS,PBO,PROTOCOL,1CAL