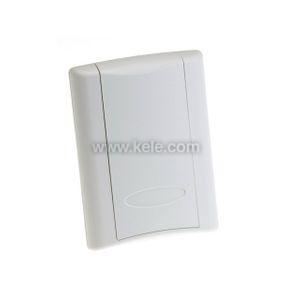 CWESB | Veris Industries | Gas & Specialty Sensors
CO2 Wall Temperature 100 RTD Non-dispersive infrared (NDIR) analyzers; range of 0-2000ppm; User-selectable 4-20mA or 0-10VDC; Repeatable to ±20 ppm ±1% of measured value; 5-year calibration interval (recommended);Low ambient sensitivity; Alarm relay with setpoint for direct ventilation control; Output 4-20mA/0-10V; 3-year factory warranty from date of purchase
Manufacturer:
Veris Industries
MPN:
CWESB
SKU:
CWESB
availability:Usually Ships in Less Than 5 Business Days
add to cart

product specifications
CO2 Wall Temperature 100 RTD Non-dispersive infrared (NDIR) analyzers; range of 0-2000ppm; User-selectable 4-20mA or 0-10VDC; Repeatable to ±20 ppm ±1% of measured value; 5-year calibration interval (recommended);Low ambient sensitivity; Alarm relay with setpoint for direct ventilation control; Output 4-20mA/0-10V; 3-year factory warranty from date of purchase
product family features
Controlling ventilation in response to occupancy
Facilitating compliance with ASHRAE 62.1 standard for air quality
Office buildings, conference rooms, schools, retail stores, etc.
more information & related documents
The Veris CWE Series is a non-dispersive infrared (NDIR) sensors designed for measuring environmental CO2 concentration in ventilation systems and indoor living spaces. Their measurement range from 0 to 2000 ppm makes them compliant with ASHRAE and other standards for ventilation control.The Veris CWE Series provides a user-selectable 4-20 mA or 0- 10 VDC output for versatility. Microprocessor-based digital electronics and a unique self-calibration algorithm improve long-term stability and accuracy.
CO2 WALL,ECONOMY,100R PT RTD