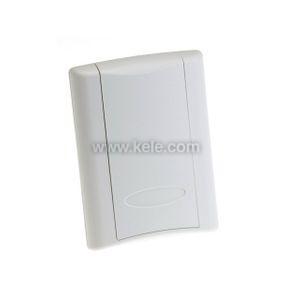 CWE | VERIS INDUSTRIES | Gas & Specialty Sensors
Wall mount CO2 sensor. Measurement range of 0 to 2000 PPM. User selectable output range of 4 to 20 mA or 0-10 VDC
Manufacturer:
VERIS INDUSTRIES
MPN:
CWE
SKU:
CWE
add to cart

product specifications
Wall mount CO2 sensor. Measurement range of 0 to 2000 PPM. User selectable output range of 4 to 20 mA or 0-10 VDC
product family features
Controlling ventilation in response to occupancy
Facilitating compliance with ASHRAE 62.1 standard for air quality
Office buildings, conference rooms, schools, retail stores, etc.
more information & related documents
The Veris CWE Series is a non-dispersive infrared (NDIR) sensors designed for measuring environmental CO2 concentration in ventilation systems and indoor living spaces. Their measurement range from 0 to 2000 ppm makes them compliant with ASHRAE and other standards for ventilation control.The Veris CWE Series provides a user-selectable 4-20 mA or 0- 10 VDC output for versatility. Microprocessor-based digital electronics and a unique self-calibration algorithm improve long-term stability and accuracy.