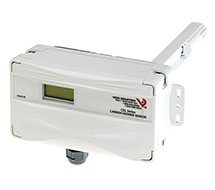 CDLSXTG | Veris Industries | Gas & Specialty Sensors
CO2,DUCT,LCD,TEMP,10K CPC
Manufacturer:
Veris Industries
MPN:
CDLSXTG
SKU:
CDLSXTG
availability:Usually Ships in Less Than 5 Business Days
add to cart

product family specifications
Class 2; 20 to 30 Vdc/24 Vac 50/60 Hz; 100 mA max.
4 to 20 mA (clipped and capped)/0 to 5 Vdc/0 to 10 Vdc (selectable)
0 to 50 °C (32 to 122 °F)
0 to 95% RH non-condensing
0.2 N-m (2.0 in-lbf ) max.
28 to 14 AWG (0.5 to 1.5mm2)
Non-dispersive infrared (NDIR), diffusion sampling
0 to 2000/5000 ppm (programmable)
±30 ppm ±2% of measured value
±20 ppm ±1% of measured value
<60 seconds for 90% step change
Fully replaceable, digitally profiled thin-film capacitive (32-bit mathematics) U.S. Patent 5,844,138
±2% from 10 to 80% RH @ 25 °C; NIST traceable multi-point calibration
±1% @ 20 °C (68 °F) annually for two years
±0.1% RH/°C above or below 25 °C (typical)
Solid-state, integrated circuit
1 Form C (SPDT) (on wall models, relay is only available in units
without the setpoint slider option)
1 A@30 Vdc, resistive; 30 W max.
product family features
Microprocessor

based

Snap-on

faceplate

Self-calibrating
NDIR
Integrated probe
more information & related documents
The Veris CDL Series are carbon dioxide (CO2) sensor that maximize energy savings while helping optimize ventilation. The sensor allows ventilation systems to be controlled by the amount of CO2 present in a space. The CDL Series detect fluctuations in CO2 levels and signal ventilation systems to provide an inlet of fresh air optimal for the space at a given time, saving energy and increasing tenant comfort.
CO2,DUCT,LCD,TEMP,10K CPC