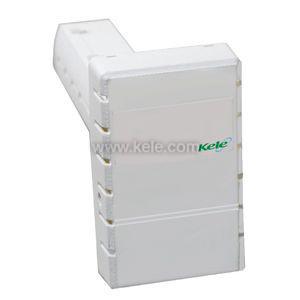 KCO2-D-V-A-R | Kele | Gas & Specialty Sensors
Carbon Dioxide Sensor, Duct Mount, 0-10 VDC, Alarm, SPST Relay
Manufacturer:
Kele
MPN:
KCO2-D-V-A-R
SKU:
KCO2DVAR
availability:Usually Ships in Less Than 42 Business Days
add to cart

product specifications
Carbon Dioxide Sensor, Duct Mount, 0-10 VDC, Alarm, SPST Relay
CO2 SENSOR, DUCT, ±40 PPM, 0-2000 PPM, 0-10 VDC, 1 RELAY, NO LCD, PLASTIC ENCLOSURE, NO RATING
product family features
Optional relay, audible alarm and LCD display
LCD displays either parameter
more information & related documents
The Kele KCO2 Series Carbon Dioxide Sensors measure CO2 levels in demand-controlled ventilation, air-quality monitoring, and other HVAC applications. The carbon dioxide sensor provides visual indication and analog output of CO2 levels. Designed for use in building automation systems, BAS, each CO2 detector is equipped with push-button calibration and an easily accessible calibration port for field maintenance. Optional audible alarm indication, LCD display, or relay output is available.
CO2 SENSOR 10V OUT DUCT BUZZER RELAY