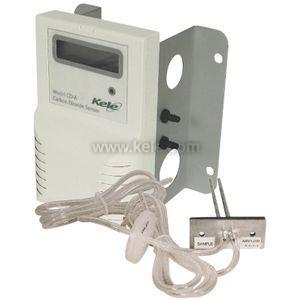 CD-AD-LCD | Kele | Gas & Specialty Sensors
CO2 Duct Mount Sensor With Analog Output, With LCD Display
Manufacturer:
Kele
MPN:
CD-AD-LCD
SKU:
CD-AD-LCD
Availability:
37 In Stock
add to cart

product specifications
CO2 Duct Mount Sensor With Analog Output, With LCD Display
CO2 SENSOR, DUCT, ±5%, 0-5000 PPM, 4-20 MA, 0-10 VDC, 0 RELAY, LCD, PLASTIC ENCLOSURE, NO RATING
product family features
0-10 VDC or 4-20 mA analog output, jumper selectable
Wall-mount and duct-sampling versions
Isolation of output and power
Compact, attractive enclosure
Optional control relay with adjustable setpoint
Simple single-point calibration
more information & related documents
The Kele Model CD-A Carbon Dioxide Sensors represent a new level of economy in reliable non-dispersive infrared CO2 detection. Designed for use in building automation systems, BAS, the gas sensors measure environmental carbon dioxide levels for use in demand-controlled ventilation and air-quality monitoring scenarios in accordance with ASHRAE standards. Fully isolated analog outputs and a convenient center wiring terminal make installation both simple and trouble-free. The analog output is jumper-selectable, 4-20 mA or 0-10 VDC, over the industry standard 0-2000 ppm CO2 range. Models are also available with an optional LCD display and/or control relay with adjustable setpoint.
CO2 SENSOR DUCT 4-20MA LCD