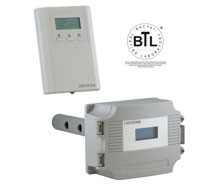 CDD4B100T24PR | Greystone Energy Systems | Gas & Specialty Sensors
CO2/TEMP SPACE 20K PPM SP-ADJ RELAY 10K TYP 2 THM
Manufacturer:
Greystone Energy Systems
MPN:
CDD4B100T24PR
SKU:
CDD4B100T24PR
availability:Usually Ships in Less Than 8 Business Days
add to cart

product family specifications
more information & related documents
The Greystone Energy Systems CDD3/4/5 Series Carbon Dioxide Sensors measure environmental CO2 levels for use in demand-controlled ventilation, air-quality monitoring, and other HVAC applications. The CDD3 Series has Bacnet and Modbus communication. The CDD4 Series has analog outputs for CO2 and Temperature. The CDD5 Series has analog outputs for CO2,Temperature and Relative Humidity.
CO2/TEMP SPACE 20K PPM SP-ADJ RELAY 10K TYP 2 THM
CDD4 Datasheet
CDD5 Datasheet
CDD3 BACNET WALL INSTALLSHEET
CDD3 DATASHEET 2016
CDD3 Datasheet
CDD3 BACNET DUCT INSTALLSHEET
CDD5 Voltage Installation manual
CDD3 MODBUS DUCT INSTALLSHEET
CDD5 WALL INSTALLSHEET
CDD3 MODBUS WALL INSTALLSHEET
CDD4 DATASHEET 2016
CDD4 DUCT INSTALLSHEET
CDD4 OSA INSTALLSHEET
CDD4 WALL INSTALLSHEET
CDD5 DATASHEET 2016
CDD5 DUCT INSTALLSHEET