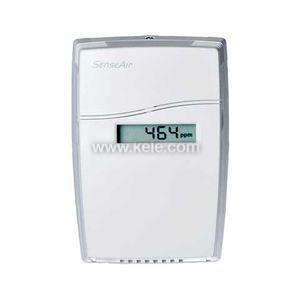 045-8-0343-F | Digi-Key Corporation | Gas & Specialty Sensors
Co2 Asense-Wall Display-Relay-5 0-5VDC
Manufacturer:
Digi-Key Corporation
MPN:
045-8-0343-F
SKU:
045-8-0343-F
availability:Usually Ships in Less Than 30 Business Days
add to cart

product specifications
Co2 Asense-Wall Display-Relay-5 0-5VDC
CO2 ASENSE-WALL DISPLAY-RELAY-5 0-5VDC
product family features
ABC logic needs no calibration
Platinum EQC coatings, unique to SenseAir products
SenseAir track-individual serial number for every unit
ISO 9001 & 14001 certified
more information & related documents
The Senseair aSENSE™ 045 Series and eSENSE™ 050 Series CO2 transmitters utilize the latest NDIR technology to accurately and reliably measure indoor levels of CO2.The aSENSE™ Model 045 is a digital low-cost transmitter. It measures both CO2 concentration and temperature in the ambient air and can transmit data to a BAS system or controller. The aSENSE™ Model 045 is a key component for climate control of buildings and other processes. The eSENSE™ Model 050 is a new simple, low cost, state-of the- art, infrared and maintenance-free carbon dioxide transmitter for room or duct applications. The eSENSE™ Model 050 measures the carbon dioxide concentration in the ambient air up to 2000 ppm and transforms the data into an analogue output. Both the aSENSE™ and the eSENSE™ help you save money by decreasing your energy consumption while creating a healthier indoor climate.
CO2 ASENSE-WALL DISPLAY-RELAY-5 0-5VDC