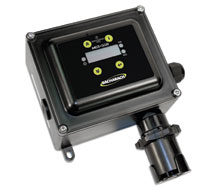 6600-8010F | Bacharach | Gas & Specialty Sensors
CO2 WALL 4/20MA RELAYS 5K PPM
Manufacturer:
Bacharach
MPN:
6600-8010F
SKU:
6600-8010F
availability:Usually Ships in Less Than 14 Business Days
add to cart

product family specifications
19.5-28.5 VDC @ 0.25 mA, 24 VAC ±20%, 50/60Hz @ 8 VA
4-20 mA @ 375Ω, 0/1-5V, 0/2-10V (dual outputs for 2 sensor onboard configurations)
Electrochemical, semi-conductor, catalytic bead and infrared
(3) SPDT, 1 A @ 24 VAC/VDC, 0.5 A @ 125 VAC, 5% DIF
Alarm Auditory Levels [Db]
85 dBA audible alarm @ 4 inches
-5° to 120℉ (-20° to 50℃)
ABS Plastic, NEMA 4 (IP66)
8.3″H x 8.9″W x 3.1″D (21 x 22.5 x 8.5 cm)
product family features
Can be used as a stand alone unit
Wide range of gases detected
more information & related documents
The Bacharach 6600 Series or MGS-550 full-featured fixed gas monitors provide superior operation - standalone or as part of a larger system utilizing the standard analog outputs. This state-of-the-art instrument can detect a wide range of gases including carbon monoxide (CO), oxygen (O2), combustible gases and refrigerants. The 6600 Series provides a unique sensor interface, allowing for multiple gases to be detected with onboard or remote sensors allowing for sensors to be placed directly in areas where potential leaks can occur. Bacharach's proprietary calibration algorithms extend the amount of time required between calibrations, reducing maintenance costs and lowering the overall cost of ownership for non-critical applications. The 6600 Series has all the features and functionality for any application. LED alarm indicators visually indicate when alarm conditions are met and an audible alarm alerts nearby personnel. An onboard alpha numeric display shows gas readings in real time for each sensor. Integral dry contact relays are available to drive external audible / visual alarms, activate fans, or connect to building management and control systems. Installation and maintenance is simple and easy, reducing overall system cost.
CO2 WALL 4/20MA RELAYS 5K PPM