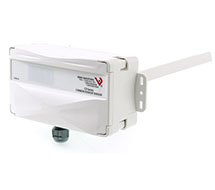 AA55B | Veris Industries | Gas & Specialty Sensors
HOUSING CWX/HWX/HTXTWXWTBK
Manufacturer:
Veris Industries
MPN:
AA55B
SKU:
AA55B
availability:Usually Ships in Less Than 5 Business Days
add to cart

product family specifications
Class 2; 20 to 30 Vdc/24 AC 50/60 Hz; 100 mA max.
4 to 20 mA (clipped & capped)/0 to 10 Vdc (selectable)
Operating Temperature Range
0 to 50 °C (32 to 122 °F)
0 to 95% RH non-condensing
0.5 to 0.6 N-m (4.4 to 5.3 in-lbf ) max
24 to 12 AWG (0.25 to 2.5mm2)
Non-dispersive infrared, diffusion sampling
±30 ppm ±2% of measured value
±20 ppm ±1% of the measured value
<60 seconds for 90% step change
product family features
Microprocessor

based

NDIR -

Non-dispersive infrared

technology

Self-calibrating
Low ambient sensitivity
more information & related documents
The Veris CDE Series is a non-dispersive infrared (NDIR) sensor designed for measuring environmental CO2 concentration in ventilation systems and indoor living spaces. The measurement range from 0 to 2000 ppm makes it compliant with ASHRAE and other standards for ventilation control. The Veris CDE Series provides a user-selectable 4-20 mA or 0- 10 VDC output for versatility. Microprocessor-based digital electronics and a unique self-calibration algorithm improve long-term stability and accuracy.
HOUSING CWX/HWX/HTXTWXWTBK