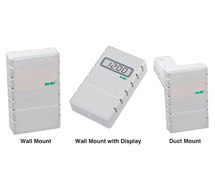 KCOC-VOC-D-A-LCD-R | Kele | Gas & Specialty Sensors
CO/VOC SENSOR 20MA OUT DUCT LCD RELAY
Manufacturer:
Kele
MPN:
KCOC-VOC-D-A-LCD-R
SKU:
KCOCVOCDALCDR
availability:Usually Ships in Less Than 42 Business Days
add to cart

product family specifications
18-28 VAC @ 2.5 VA, 50/60 Hz or 18-30 VDC @ 104 mA
18-28 VAC @ 4 VA, 50/60 Hz or 18-30 VDC @ 166 mA
±3% of reading or ±40 ppm
5% of reading 20% to 80% RH
Analog 4-20 mA @ 600Ω, 0-10V
Stepped output (4, 12, 20 mA)
0-1000 ppm ethanol equivalent
LED Flashes above 20 ppm of CO Display Optional, four-digit LCD
<15 minutes (maximum accuracy)
Optional, SPST 2A @ 24 VAC/VDC, closes >20 ppm
Alarm Auditory Levels [Db]
Optional, 65 dB, set at 20 ppm of CO
32° to 122°F (0° to 50°C)
0% to 99% RH (noncondensing)
4.5"H x 2.8"W x 1.0"D (11.4 x 7.3 x 2.54 cm)
4.5"H x 2.8"W x 6.9"D (11.4 x 7.3 x 17.5 cm)
1.7″ (4.3 cm) diameter, 6.25″ (15.9 cm) long
product family features
Combines CO sensor with CO2, RH, or VOC sensor
Isolated power and output
Simple push button calibration
more information & related documents
The Kele KCOC Series Combination Carbon Monoxide Sensors pair a CO sensor with a CO2, RH, or VOC sensor in the same enclosure-reducing installation time and space required. The unit provides visual indication and analog output of CO levels in enclosed spaces such as schools, offices, malls, and theaters. Each transmitter is available with either a 0-10V or 4-20 mA and is scaled from 0-200 ppm of CO and all outputs will use the same output. They are designed with push button calibration and an easily accessible calibration port for field maintenance. Optional audible alarm indication, LCD display, or relay output is available. The optional relay option closes at 30 ppm and opens at 20 ppm, and the audible alarm will sound at 50 ppm. The KCOC Series Carbon Monoxide Detectors are designed to be used as part of a control system that helps to prevent the formation of a hazardous environment when properly installed and maintained. For more information on the proper application and use of this product please read "Environmental Safety Devices" in our technical reference section.
CO/VOC SENSOR 20MA OUT DUCT LCD RELAY