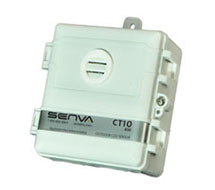 * product family image displayed
CT1O-H3X | Senva | Gas & Specialty Sensors
CO2 OUTDOOR NOLCD 3K THERMISTOR
Manufacturer:
Senva
MPN:
CT1O-H3X
SKU:
CT1O-H3X
availability:
Usually Ships in Less Than 7 Business Days
add to cart

product family specifications
12-30VDC, 50mA max / 24VAC(1), 100mA max.
Dual Analog: 3-wire 4-20mA and 0-5V/0-10V (2) (dip switch selectable)
Output scaling: CO2 0 - 2000 (default) or 0 - 5000/10000 ppm (selectable)
Output Scaling Temperature: 32 to 122oF (0-50oC) or -40 to 140oF (-40-60oC) (Switch Selectable)
Programmable Solid-state, 1A @ 30VAC/DC, N.O.
Type: Non-dispersive Infrared (NDIR) ±30ppm, ±3% of reading (0-2000ppm), 0-50oC, 0-85%RH
±50ppm, ±5% of reading (2000-5000ppm), 0-50oC, 0-85%RH
Accuracy: Consult factory for 5000-10000ppm accuracy
Response time: 60s to 90% reading
Output update rate: 1s
Operating Environment: 14 to 122oF (-10 to 50ºC), 0 to 95% RH
LCD Menu Setup Parameters
SPH, Setpoint, Hi (On point): 500ppm to full-scale (800ppm default)
SPL, Setpoint, Lo (Off point): 400ppm to full-scale-50 (700ppm default)
SCL, Scaling: 0-2000ppm (default), 0-5000ppm, 0-10000ppm
ADJ, Adjustment: Offset adjustment +/-250ppm (0 default)
CAL, Calibration mode: Automatic mode ON or OFF (default=ON)
RUN, Run mode: Displays CO2 in ppm
Temperature: -4 to 122ºF (-20 to 50oC)
Humidity: 0-95% non-condensing
Material: ABS/Polycarbonate
Enclosure Rating: Nema 1; Add drain holes to enclosure bottom to achieve Nema 3R rating
Dimensions: 4.0' h x 4.4"w x 2.1"d (+6.8" probe)
product family features
Easy to install and maintain

High reliability reduces callbacks

High accuracy for improved system performance
more information & related documents
The Senva CT1O Series CO2 sensors maximize energy savings by ensuring optimal ventilation. Measuring exterior CO2 levels ensures optimized economizer control. The CT1O series offers outside air sensors with an NDIR sensing element and features including a built-in heater, standard LCD, setpoint relay, menu-selectable auto-calibration, and provision to offset the reading +/- 250 ppm.
CO2 OUTDOOR NOLCD 3K THERMISTOR