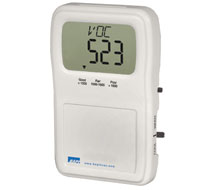 * product family image displayed
BABS3FVOC10H212 | BAPI | Gas & Specialty Sensors
VOC BAPI WALL 0-105 VDC 2% RH 2-10 VDC W/DISPLAY
Manufacturer:
BAPI
MPN:
BABS3FVOC10H212
SKU:
BABS3FVOC10H212
Availability:
Usually Ships in Less Than 7 Business Days
add to cart

product family specifications
0 to 5 VDC Output units: 9-35 VDC
@ 50 mA Max 0 to 10 VDC Output
Units: 15- 35 VDC @ 50 mA Max
VOC: 0-100% (0 to 2,000 CO2 PPM)
0-5 VDC, 0-10 VDC (model specific)
0-5 VDC, 0-10 VDC, 2-10 VDC (model specific)
Humidity: Capacitive Polymer
VOC: Micro-machined Metal Oxide
Main Display: 0.76″ 4-digit numeric
Minor Display: 0.34″ 3-digit
2″ x 4″ J-Box or drywall mount (screws provided)
5″ H x 3.2″ W x 7.6″ D (12.7 x 8.2 x 19.3 cm)
5.5″ H x 3.5″ W x 1.1″ D (13.9 x 8.9 x 2.7 cm)
product family features
Measures human sourced and environmental VOCs
Calibration algorithm for CO2 correlation
Output corresponds to 0 to 2000 ppm of CO2
Optional display on wall unit only
Available with optional temperature and humidity outputs
more information & related documents
Humans exhale Volatile Organic Compounds (VOCs) as well as CO2. The BAPI BA/Bs3xxV Indoor Air Quaility Sensors measure these VOCs and serve as an indicator of space occupancy with same reliability of CO2 transmitters. The BAPI sensor is different from other VOC sensors. Using a calibration algorithm, the sensor value is converted to an output with a high correlation to a CO2 level. The sensor also picks up VOCS from other sources such as building materials, perfumes, colognes, and furniture off gassing. Using this sensor to ventilate helps to achieve true indoor air quiality and not just CO2 dilution. All units have no override, no LED, and no legend.
VOC BAPI WALL 0-105 VDC 2% RH 2-10 VDC W/DISPLAY