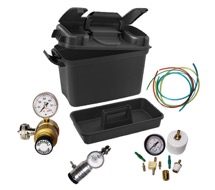 * product family image displayed
UCK-3 | Kele | Gas & Specialty Sensors
CAL KIT FOR CORR/NON-CORR
Manufacturer:
Kele
MPN:
UCK-3
SKU:
UCK-3
Availability:
Usually Ships in Less Than 1 Business Days
add to cart

product family specifications
product family features
Complete kit with tubing, gauges and fittings
Works with models of vendor sensors found in our catalog
more information & related documents
The Kele Model UCK Universal Calibration Kit contains essential items to perform gas calibration on a variety of gas monitoring equipment. The kit includes assorted tubing sizes, couplings, adapters, restrictors, a regulator, pressure gauge, and a hard carrying case. Gas cylinders are sold separately. The Model UCK-1 contains a regulator to fit 17L cylinders for non-corrosive gases (N2, CO2, CH4, H2, O2, CO, and refrigerants). For corrosive gases (NO2, H2S, SO2, and NH3), use Model UCK-2 which contains a regulator for 58L cylinders. Model UCK-3 contains both 17L and 58L regulators.
CAL KIT FOR CORR/NON-CORR
Universal Calibration Kit Instruction Manual 2016