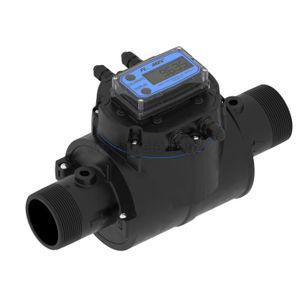 QSE40FAS09XXXC | Great Plains Industries | Flow
Insertion Electromagnetic Flow Transmitter, 4.00" Pipe, Steel ANSI Flange Fitting, 2-Button Integral Display, Field Configurable, Integral Pulse Transmitter, No Communications, No Temperature Probes
Manufacturer:
Great Plains Industries
MPN:
QSE40FAS09XXXC
SKU:
QSE40FAS09XXXC
availability:Contact Kele for more information
add to cart

product specifications
Insertion Electromagnetic Flow Transmitter, 4.00" Pipe, Steel ANSI Flange Fitting, 2-Button Integral Display, Field Configurable, Integral Pulse Transmitter, No Communications, No Temperature Probes
WATER FLOW, MAGNETIC-INSERTION, 4.00", ±0.50%, PULSE, LCD, NO COMM
product family features
Low investment and operating costs
Wide turndown ratio of 60:1
Non-intrusive, no moving parts to wear out
7 line sizes (1/2″ to 4″) ½″, ¾″, 1″, 1-1/2″, 2″, 3″, & 4″
Compatible with GPI 09 Electronics Display or
more information & related documents
The FLOMEC® QSE Series FLowmeter is a dependable highly accurate electromagnetic flowmeter designed for flow and usage monitoring in commercial applications. The Noryl® housing and flow tube offer a lightweight, easy-to-install QSE Mag Meter that is resistant to heat (210℉/ 99℃) and compatible with many water-based liquid solutions. The QSE Mag Meter monitors flow rate and total flow in a wide variety of applications including: HVAC, Turf/ Irrigation and other water reclamation applications. Kele is the leading supplier of building automation products. When you need the right product, right now, count on Kele.
MAG METER 4" ASFLNG LDISP