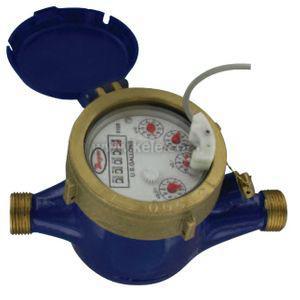 WMT2-B-C-12-10 | Dwyer Instruments | Flow
1-1/4" BSPT (32mm) Brass Multi-Jet Water Meter (M3/H), With Pulse Output, 10 Liter/Pulse
Manufacturer:
Dwyer Instruments
MPN:
WMT2-B-C-12-10
SKU:
WMT2-B-C-12-10
availability:Usually Ships in Less Than 1 Business Days
add to cart

product specifications
1-1/4" BSPT (32mm) Brass Multi-Jet Water Meter (M3/H), With Pulse Output, 10 Liter/Pulse
WATER FLOW, MULTI-JET, 1.25", ±2.00%, PULSE, GAUGE, NO COMM
product family features
Multi-jet design allows for simplicity and accuracy with wide flow ranges, even in low flow applications
Magnetically driven, hermetically sealed register does not leak or fog and is completely separated from the water
Designed for long service life and maintenance-free operation, even under harsh conditions
Integral strainer that protects meter from particulate damage
Easy installation with included coupling adapters
Pulsed output proportional to flow allows for remote flow totalization
more information & related documents
The Dwyer WMT2 Series Multi-Jet Water Meter with Pulsed Output is a series of mechanical, water totalizing meters that display the total water usage in gallons or m3 and provide a reed switch output proportional to flow rate. They are available in a range of body sizes and include NPT or BSPT couplings. Kele is the leading supplier of building automation products. When you need the right product, right now, count on Kele.
1-1/4" BSPT BRAS MULT WTR MTR, W/PULSE, 10L/PULSE