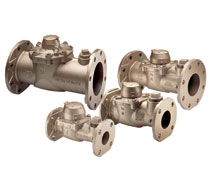 RT-0400BRWPISX-RJ-GA | Badger Meter | Flow
4.0" TURBO WATER MTR BRONZE RND LOOP POWER 4-20MA
Manufacturer:
Badger Meter
MPN:
RT-0400BRWPISX-RJ-GA
SKU:
T0400BRWPISXRJG
availability:Usually Ships in Less Than 13 Business Days
add to cart

product family specifications
product family features
Models 160 through 6200 are designed for 1-1/2″ through 12″ applications
Direct coupled turbine based on an exclusive "floating rotor" design that reduces bearing friction-and associated wear and tear
Low pressure loss for improved system efficiency
Exceptional registration accuracy across low flow rate, normal operating flow rate and maximum continuous operation flow
Permanently sealed, tamper-resistant register or encoder
Integral strainer option for sizes 1-1/2" through 4" help protect your system from damaging debris and related downtime
NSF/ANSI Standards 61 and 372 Certified
Applied for billing applications
more information & related documents
The Badger Meter Recordall Turbo Series meters meet or exceed the most recent revision of AWWA Standard C701 Class II Standards and are available in a lead-free bronze alloy for sizes 1-1/2″ through 10″ and cast iron for 12″ meters. Turbo Series meters comply with the lead-free provisions of the Safe Drinking Water Act. Sizes 1-1/2″ through 10″ meters are also certified to NSF/ANSI Standards 61 and 372 (Trade Designation: Turbo Series LL-NS) and carry the NSF-61 mark on the housing. All components of the lead-free alloy meter (housing, measuring element, seals and so on) comprise the certified system. Operation & Performance: Direct magnetic drive is achieved when the magnet carrier is driven by a gear train coupled to the rotor. The gear train consists of two sets of gears connected by a vertical transmission shaft. One gear set is at the magnet carrier, the other is a worm gear set at the rotor shaft. When water flows into the Turbo Series meter measuring element, it contacts the multi-vaned rotor. The resulting rotor rotation is then transmitted by magnetic coupling to a sealed register or encoder. The direct magnetic drive is built to provides a reliable meter-to-registration coupling.
4.0" TURBO WATER MTR BRONZE RND LOOP POWER 4-20MA