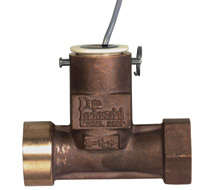 IR-250B-1.25 | Badger Meter | Flow
IRRIGATION SENSOR
Manufacturer:
Badger Meter
MPN:
IR-250B-1.25
SKU:
IR-250B-1.25
availability:Usually Ships in Less Than 14 Business Days
add to cart

product family specifications
0.3 to 15 fps (.09 to 4.5 mps)
20' (6.1 m) 2-conductor 20 AWG shielded UL type PTLC wire, rated to 221℉ (105℃). May be extended to 2000' maximum with similar cable
Hot water, chilled water, water/glycol (verify application is compatible with flow sensor materials of construction, check material compatibility resources prior to ordering)
400 psig (2758 kPa) @ 100℉ (37.8℃) media temperature
Materials Of Construction
Cast bronze UNS C83600 tee, glass-reinforced nylon impeller, Pennlon® UHMWPE bearings, tungsten carbide shaft, glass reinforced PPS housing, and ethylene propylene EPDM o-rings
250B-0.5, -0.75 4.6"H x 4.0"W x 1.6"D (11.7 x 10.2 x 4.1 cm)
250B-1 4.8"H x 5.5"W x 2.1"D (12.2 x 14.0 x 5.3 cm)
250B-1.25 5.0"H x 6.1"W x 2.4"D (12.7 x 15.5 x 6.1 cm)
250B-1.5 5.2"H x 6.5"W x 2.6"D (13.2 x 16.5 x 6.6 cm)
250B-0.75 4.8 lb (2.2 kg)
250B-1.25 6.5 lb (2.9 kg)
product family features
Sensor electronics easily removed from tee
Impeller, bearing and shaft are easily replaced in field without changing calibration
Power and signal transmit on single pair of wires up to a distance of 2000 feet (610 meters)
Digital signal easily interfaced with transmitters, monitors or PLCs
more information & related documents
The Badger Meter 250B Series flow sensors consist of a removable flow sensor mounted in a cast bronze housing. Indispensable to many Building Automation Systems, BAS, and HVAC applications, these bronze flow sensors are available for 1/2'' to 1-1/2'' (1.3 to 3.8 cm) pipe sizes.