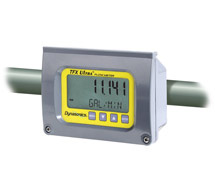 DE-IDL-AYNM-N0 | Badger Meter | Flow
BTU MTR, 1-1/4 ANSI, 95-264 VAC, KEYPAD, NO COMM
Manufacturer:
Badger Meter
MPN:
DE-IDL-AYNM-N0
SKU:
DE-IDL-AYNM-N0
availability:Contact Kele for more information
add to cart

product family specifications
95-264 VAC, 47-63 Hz @ 17 VA
20-28 VAC, 47-63 Hz @ 8.4 VA
Flow: ± 1.0% of reading above 1 fps (0.3 mps) velocity, ± 0.01% of reading below 1 fps (0.3 mps)
Temperature (DE only): 0.45℉ (0.25℃), NIST certification inlcuded
DE: 4-20 mA @ 400Ω internal power, can span negative-to-positive flow/energy rates
DB: 4-20 mA @ 400Ω internal power, can span negative-to-positive flow/energy rates; two 0-1,000 Hz open collector transistors that can be configured for flow rate, alarming or totalizing
DTTS small transducers: 2 MHz
DTTN remote transducers: 1 MHz
DTTL large pipe transducers: 500 kHz
Flow: 0.001 fps (.0003 mps)
Temperature: 0.05℉ (.025℃)
0.1 to 40 fps (feet/second), 0.03 to 12.4 mps (meters/second), bi-directional
Transducer cables: RG59 coaxial 75 Ω or Twinaxial 78 Ω, (optional armored conduit), maximum length 990' (300 m) in 10' (3m) increments
RTDs (DE meters only): Platinum 385, 1 kΩ, 3-wire PVC jacket cable
Two 1/2" FNPT and one 3/4″ FNPT
Remote transducer models available with 20' (6.1m), 50' (15m), or 100' (30m) cables
USB: 2.0 for connection to PC running ULTRALINK™ configuration utility
RS485: Modbus RTU command set, ENERGYLINK network monitoring software
10/100 Base-T: RJ45 communication via Modbus TCP/IP, Ethernet/IP and BACnet®/IP
PC running free ULTRALINK™ software or via integral display keypad (limited access to parameters)
Two-line LCD, LED backlit, top row: 0.7″ (1.8 cm) height, 7-segment; bottom row: .35″ (0.9 cm) height, 14-segment; flow rate and totalization indication
DB: flow rate in gallons, cubic feet, million gallons, barrels, acre-feet, lbs., meters, cubic meters, liters, million liters, kg.
DE: flow rates above plus BTU, MBTU, MMBTU, Tons, kJ, kW, MW
Most clean liquids or liquids with some suspended solids or aeration; get factory approval for glycol applications
Materials Of Construction
Enclosure: powder-coated aluminum, polycarbonate, stainless steel, polyurethane, nickel-plated steel mounting brackets
Transducers: NEMA 6 (IP67), PVC/CPVC, Ultem®, Nylon cord grip, PVC cable jacket
-40° to 185℉ (-40° to 85℃); remote DTTS/DTTN transducers have upper limit of 250℉ (121℃) and high temperature DTTH have upper limit of 400℉ (200℃)
NEMA 4 (IP65) as long as a liquid-tight connectors are used
CSA C22.2 No. 61010-1 (24 VDC, 120 VAC only); CE EN61326-1:2006
product family features
Backlit display for easy reading in low light
USB Port for configuration and monitoring
No fluid contact means no fluid compatibility issues, no pressure drop, and no plant shutdown necessary for installation
Bi-directional flow measurement for reversing flow systems
Selectable engineering units for international preferences
No moving parts to maintain or replace minimizes service costs
Works with small amounts of suspended solids or aeration
Totalizer options include forward, reverse and net total for flow measurement flexibility
Network communication models available for large projects (up to 126 meters per network)
Keypad models allow access to many parameters
Free Ultralink™ software for configuration
5 point NIST certification included
more information & related documents
The Dynasonics DE Series ultrasonic energy meter and DB Series ultrasonic flow meter attach externally to water distribution piping to measure flow rate and (the DE Series) supply/return temperature difference to calculate energy consumption. Since they are non-invasive, they add no pressure head loss to the system and can be installed on existing piping systems without shutdown or interruption. Installation is easy and fast, there are no moving parts, and they measure bi-directional flow. The DE energy meter measures energy usage in BTU, MBTU, MMBTU, Tons, kJ, kW, MW and is perfect for retrofit of existing hot water or chilled water hydronic systems. Network communication models include Modbus RTU over RS485, Modbus TCP/IP, and Ethernet communication includes BACNet®/IP, EtherNet/IP® protocols. The DE and DB meters have a backlit display (available with or without a keypad interface), a USB port for programming, and integral or remote clamp-on flow transducer configurations. The DE Series uses strap-on RTD temperature sensors (immersion sensors are also available). The DE and DB meters work with pipe sizes 1/2″ and up, are available in 24 VAC, 120 VAC, or 24 VDC power, and have a 4-20 mA analog output for flow rate and a pulse output for totalizing. Free ULTRALINK™ software is used to configure the meters.
BTU MTR, 1-1/4 ANSI, 95-264 VAC, KEYPAD, NO COMM
Dynasonics Application Datasheet