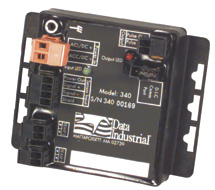 340BN-04 | Badger Meter | Flow
BTU XMITTER W/ BACNET OUTPUT DIN
Manufacturer:
Badger Meter
MPN:
340BN-04
SKU:
340BN-04
availability:Usually Ships in Less Than 14 Business Days
add to cart

product family specifications
12-35 VAC ±5% or 12-24 VDC ±10%
All flow sensors: Excitation voltage 3-wire, 7.9-11.4 VDC, 270Ω source impedance Pulse sensors: Signal amplitude 2.5 VDC threshold, signal limit <35V AC or DC peak, frequency 0-10 kHz, pull-up 8.5 VDC @ 2 kΩ source impedance Sine wave sensors: Signal amplitude 10 mV p-p threshold, signal limit <35V AC or DC peak, frequency 0-10 kHz Temperature sensors: Two matched 10 kΩ @ 25℃, two-wire, type II
-- Output Pulse, isolated solid state switch programmed for units of energy or flow
BN Output BACnet and Modbus communication
LW Output LonWorks communication
N2 Output N2 communication
Voltage range: 0 to ±60V (DC or AC peak); On-state load current: 700 mA maximum; On-state load resistance: 700 mΩ; Off-state leakage: < 1&#0181A @ 60 V peak; Pulse width: adjustable from .05 to 5.0 seconds
Computer connection allows visibility of real-time flow rate, flow total, temperature readings, energy rate and energy total
BACnet and Modbus, LonWorks, Metasys N2, or Modbus
Windows® based A301-20 programming kit (order separately) cable connects to DIC communication port and DB9 COM port on a computer for calibration of flow sensor information, units, output scaling; unit must be powered to configure
-00 Enclosure Surface mount, no enclosure
-02 Enclosure Surface mount, in metal enclosure
-03 Enclosure Surface mount, in plastic enclosure
-04 Enclosure DIN rail mount, with clips
-20° to 158℉ (-29° to 70℃)
0.3 lb (0.14 kg) without enclosure
product family features
AC or DC powered for installation flexibility
Field programmable makes changes easy
Small footprint saves space
Uses two matched 10 KΩ Type II thermistors
Used with Data Industrial flow sensors
Bas communication standard
more information & related documents
The Badger Meter 340 Series is an inexpensive BTU transmitter that calculates energy usage based on liquid flow rate from a Data Industrial impeller flow sensor, Type II and differential temperature using two 10 kΩ thermistor inputs. The onboard microcontroller provide precise measurements accurate drift-free outputs. Configuration is accomplished with a separately purchased Windows® based software programming kit. The 340 Series comes with onboard communication technology for LonWorks, BACnet, Johnson Controls N2 Metasys, or Modbus networks.
BTU XMITTER W/ BACNET OUTPUT DIN