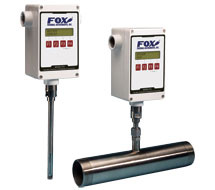 FT3-05P-SS-ST-E1-DD-BH-G3 | Fox Thermal Instruments | Flow
1/2IN MNPT INLINE 24VDC HART 0-1000 SCFM NAT GAS
Manufacturer:
Fox Thermal Instruments
MPN:
FT3-05P-SS-ST-E1-DD-BH-G3
SKU:
FT3-05P-SS-ST-E1-DD-BH-G3
availability:Usually Ships in Less Than 15 Business Days
add to cart

product family specifications
24 VDC ±10% @ 0.833A, 85-264 VAC 50/60 Hz @ 12 VA
Flow: ±1% of reading, ±0.2% of full scale
Temperature: ±1.8℉ (±1.0℃) over -40° to 250℉ (-40° to 121℃)
2 isolated 4-20 mA outputs (one for flow and one for temperature); 1 isolated pulse output 0-100Hz, 10V p/p for flow (can be used for alarming)
Two 3/4" NPT conduit connections on sides of housing
USB Port-optional: for connection to computer, models available with RS485-Modbus
BACnet MS/TP, Profibus-DP, DeviceNet and Ethernet Modbus TCP
Standard configuration for natural gas; other gases such as air, biogas, butane, carbon monoxide, carbon dioxide, nitrogen, methane, oxygen, propane, etc. optional.
-40° to 250℉ (-40° to 121℃)
Materials Of Construction
316 stainless steel sensor and flow body
1/2" MNPT pipe section to 2″ MNPT pipe section (standard inline), 3/4″ MNPT coupling, 6″ length probe for 1-1/2″ to 6″ pipes (standard insertion, other lengths available)
-40° to 158℉ (-40° to 70℃) DC power
-4° to 158℉ (-20° to 70℃) AC powre
NEMA 4X, designed for Class I, Division 2, Groups B, C & D hazardous areas
Inline Models 8.0 lb (3.6 kg) to 10.0 lb (4.5 kg)
6″ Insertion Model 6.0 lb (2.7 kg)
product family features
Measures gas flow rate in SCFM, SCFH, NM3M, NM3H, KG/M, KG/H, and more, for complete choice in units
Two 4-20 mA analog outputs, flow rate and temperature
RS485-Modbus, Isolated BACnet MS/TP, Profibus-DP, DeviceNet and Ethernet Modbus TCP models available for network communication
Insertion or inline mounting styles for installation choices
All welded 316SS sensor construction and no moving parts for durability and long life
Field programmable for flexibility in configuration
Standard NEMA 4X enclosure designed for Class I, Division 2, Groups B, C, and D
NIST traceable calibration standard to assure accuracy
Free FT2A View™ Software available
more information & related documents
The Fox FT2A Series thermal mass flow meters are perfect for measuring flow of natural gas, compressed air, propane, oxygen, and most common gases. The flow meters measure both flow rate and temperature with isolated 4-20 mA outputs for both variables. In addition, a separate pulse output can be used for logging total gas flow. The FT2A mass flow meters measure gas flow velocity as low as 50 sfpm (standard feet/minute) and as high as 50,000 sfpm, without the need for temperature or pressure compensation. Each flow meter is calibrated at the factory using the same gas as the application. As a result, the FT2A more than meets EPA accuracy requirements for monitoring both boiler intake gas and combustion emissions. Standard models include a 2 line x 16 character bright white backlit display for viewing flow rate, flow total, elapsed time, process gas temperature and alarms. The FT2A has an integral keypad for setting parameters such as signal spans, pulse frequency scaling, pipe area, zero cutoff, filtering, diagnostics and alarms. The FT2A Series is available in two styles, inline or insertion. The inline models (male NPT) include built-in flow conditioners which reduce the need for long straight runs of upstream and downstream pipe. The most common inline sizes are 1/2" to 2" and other inline sizes are available. The insertion models install in a 3/4" coupling (field provided) and are available in insertion lengths to fit pipes from 1-1/2" to 72". Both inline and insertion styles come standard with stainless steel wetted parts, an integral NEMA 4X enclosure rated for Class I, Div. 2, Groups B,C,D hazardous areas, and a NIST calibration certificate.
1/2IN MNPT INLINE 24VDC HART 0-1000 SCFM NAT GAS
FT3 datasheet
FT3 hart installation manual
FT3 installation manual
FT3 modbus installation manual
FT2A Anybus Manual
FT2A Manual Rev C
FT2A Display Configuration Codes
FT2A Datasheet Rev G
FT2A Model Codes
Fox Industry Product Summary
FT2A Modbus BACnet Manual Rev B
Fox Thermal FT2A Order Form with Directions